If you feel like you need to donate right now there are some options open. There are many people in need and you want and can help. And/or you may need the space and mental clarity of clearing out clutter. Whatever your reasons, please be safe (wear a mask and keep 6 feet of distance) and try to schedule your outing with another trip for efficiency.
I have listed several ideas about donating. People have personal preferences to donate: to whatever is closer, whatever is easier/safer, national charities/non-profits, local charity/non-profits, or hyper-local in their own neighborhood. I've tried to cover what may work for most people. If you have more ideas or groups to share that are operating right now, please let me know.
If you have the space to hold items for a charity you know will desperately appreciate your used items once they can safely accept said items, please keep that in mind. Several specific Austin-area charities I donate to are only accepting new items right now so I'm holding onto gently-used-items donations.
All the Austin-area Goodwill's are open. Some locations have drive thru, but you may have to unload yourself. Call ahead if you have questions or concerns.
Salvation Army is open and certain areas have pickup. You'll need to call to confirm if pickup is available in your area.
Right next to my neighborhood in Austin is Hope Family Thrift Store with all proceeds benefiting the Austin Disaster Relief Network. Hope Family Thrift Store is open and accepting donations Tuesdays, Thursdays and Saturdays from 10-5:30. Drive through the fence at the back of the building to the loading dock/outside storage area. You do need to unload yourself, but there's plenty of room to wear your mask and social distance. The staff stand back while you drop off your items and the material is quarantined for at least three days before being sorted and put out. Hope will pick up furniture. They are pretty quick to respond so if you'd like to donate furniture quickly they're a great way to do it.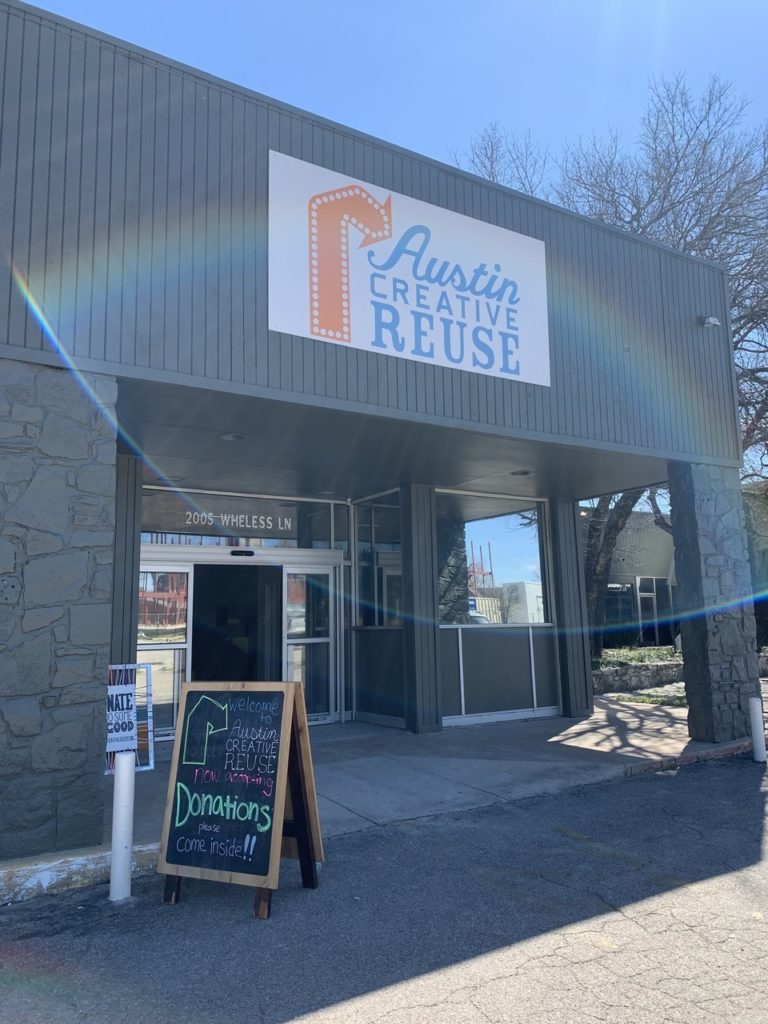 Craft, hobby, decorating, and art supplies can be donated to Austin Creative Reuse. You will need to schedule an appointment, no walk-ups will be allowed.
Austin Public Library locations and its Recycled Reads stores are still closed for COVID. Many Little Free Libraries are still open though and may be options for donating books, magazines, DVDs (don't forget fitness) and puzzles. Little Free Libraries are the little house-shaped structures built in peoples front yards near sidewalks. I do recommend you proceed with caution and sanitize items going in and coming out of the Little Free Libraries. This may not be an option for you. though I know many people using these right now.
If your items are usable, and maybe not usable by your definition, consider posting items to your local Buy Nothing or Marketplace groups, both on Facebook. If you don't have anything (you think) to donate, and you don't need/want anything I still recommend you follow the Buy Nothing Feed in case there is an "Ask" that you realize you can fulfill. Sometimes its things like herbs, an egg or a bit of milk. These are great platforms to re-home items quickly. Opportunities for gratitude, sharing of extra meals and food, childcare, etc. also show up on these two pages, more so on Buy Nothing. Everything on Buy Nothing is free (gives and asks), and while there are free items posted on Marketplace there are many items posted for sale. See my previous posts linked above for more detail.
Regarding Buy Nothing last week: a neighbor asked for a baby toy similar to the one I had still and I was able to provide. I posted a silverware basket from my broken dishwasher someone will use for their paintbrushes, and someone eagerly agreed to pick up ottoman legs (with hardware) from an ottoman I dismantled for my dogs. I have no intention of ever putting the legs back on. So, just because you can't use it or don't want it, that doesn't mean someone else won't treasure it and be grateful. Check these groups out!
Businesses are starting to open. If they accept certain items to donate or recyce you may need to schedule an appointment. My list of places to donate/recycle and items that can be kept out of the landfill is at Where Can I Donate? You can also check out the Austin Reuse Directory for ideas. Not all businesses have updated their websites so I do recommend you call ahead before donating during COVID.
The City of Austin Recycle & Reuse Drop-off Center is closed until further notice with no set date to reopen. There is also no information available on when Bulk and Brush collections may resume. I have some tips for larger trash items and larger brush items at Weekly Collection Reminders. The scrap yards and bulk businesses appear to be open and many are offering pickup so you will have to pay instead of receiving the free City of Austin Service, but if you want to get rid of items/ you really need the space these options are open and exercising safety procedures in line with COVID. If recycling is important, make sure to research if the pickup with be land-filled or recycled, it's not a given "junk" is recycled or donated.
Many charities and non-profits have Wish Lists and Amazon lists for new items they are in need of. Many also have increased the visibility of their monetary donation options if you wish to make a financial contribution.
I hope this helps you clear out and help others. Please share other ideas, places, etc. that you feel should be addressed. Thank you, stay safe and be well.