Crafts, Hobbies and Stationary at great low prices!
Austin Creative Reuse is a great place in Austin you may not know about! You can donate your old school supplies, office supplies, craft, and hobby materials and anything else you think might be good for creative purposes and they'll collect them, sort them, and sell them at super low prices to the public.
ACR is keeping out so much material out of the landfill and offering a wonderful resource to our city. Their prices ensure anyone can have supplies for school or explore different craft and hobby ideas.
You may have heard about or seen collection buckets in your children's school or classroom this month in Austin. Parents coordinate with a secretary or principal and sign up with ACR to put buckets in their schools to collect usable school supplies. In 2018, they collected over 2,000 pounds of usable school supplies from just 12 schools!
Austin Creative Reuse has Back to School Tax Free days in the fall and special teacher shopping days throughout the year. There are volunteer nights and craft challenges. Check them out! If you join their Facebook Group you can see when they post neat and/or more desirable items like sewing machines, paper cutters, dress forms, dolls, etc.
I visit Austin Creative Reuse for stationary, cards and stickers. I stock up for all the holidays in the off seasons. I grab it when I see it so I'm ready when the holiday gets near. Sometimes I need to be ready a month in advance so having everything out at once is convenient. I volunteer with the non-profit organization Soldiers' Angels. These volunteers, known as Angels, support our service members, both active and veterans. There are Angel teams that write letters, send boxes of baked goods, ship care packages to K-9 handlers or chaplains, host virtual baby showers, and/or write cards for birthdays, graduation from boot camp, Honors Flights, etc. Many teams have a one item a month requirement (card, letter, box) so it's not hard to get started and maintain support.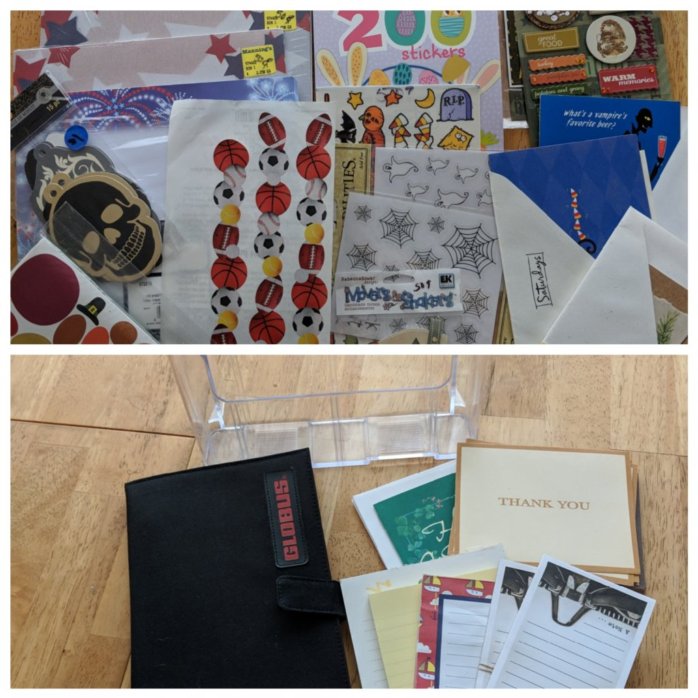 As you can see from the picture caption, these prices are great! Shopping here allows me to be so much more creative with my cards and letters, and because of prices I can support more soldiers and their families. Just one package of that holiday themed printer paper in the top picture was originally priced at $10. That's more than I paid for the whole trip!
I highly recommend you check out Soldiers' Angels , especially if you are interested in giving back in appreciation for the holiday weekend and what our service members go through during and after deployment. The other Angels are so supportive and amazing! We have great Facebook groups for ideas and discussions, veterans' responses are always so moving, and when an active deployed service member has time to write you back and thank you for that brief glimpse of home, it's such a blessing!
Disclosure: If you sign up for Soldiers' Angels and mention my name in the Profile Application as a reference, I do receive credit for recruitment.
Austin Creative Reuse is such a wonderful resource for our zero waste community and Austin at-large. It's so popular, both for donations and shopping, they're actually scheduled to move into a larger space! How amazing and green is that! They have organizers, fabric, tiles, stamps, cookie cutters, crafting machines, scissors, staplers, knitting needles and yarn, buttons, small toys, lots of buckets and containers that you could use at home and at work. Kids love to pick out things here and it's super interesting to just check out. Home, work, hobby, they cover it all. You could also get ideas of what all they accept as donations if you're doing some spring cleaning! Check it out!